The company BRIGHETTI MECCANICA s.r.l. was established in 1972 as a company manufacturer of small metallic items for the Fashion Industry.
In the early 1980s, it made a qualitative leap and entered the field of traditional and CNCmachine tooling.
In its more than forty years of activity, BRIGHETTI MECCANICA s.r.l. has distinguished itself by the high quality of its products and has always made every effort, from both a technical and commercial standpoint, to meet the demands of its customers on time.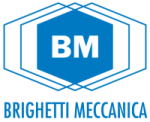 BRIGHETTI MECCANICA s.r.l. is also distinguished by its speed of delivery: in fact, orders for items coded in this General Catalog are processed within the day following receipt of the order, as all items are in stock, except for the sold out. The production cycle takes place in Italy, so our production is all strictly "Made in Italy."