G12A ADJUSTABLE BROACHING HEADS
In the system of broaching in internal holes and for external profiles, the BR-G12A broaching head represents a novelty compared to traditional models currently on the world market and can be used, like any other BR broaching machine, on traditional and CNC machine tools.
The main feature of the BR-G12A broaching head is that it can use broaches of any length between 25 and 60 mm. This means that the max. working depth (L fig.2) can be up to a maximum of 60 mm, while the useful broaching depth (L1 fig.2) can be up to 20 mm.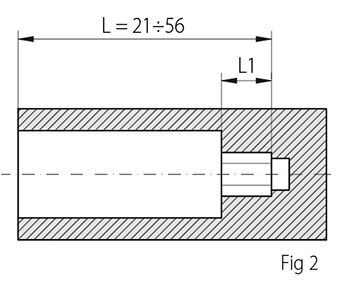 The broach replacement operation, to obtain broaches of different depths, is done easily and quickly:
you turn the adjusting screw to change the height of the broach holder axis and, with the help of the zeroing gauge supplied with the broacher,
you adjust the broacher itself according to the length of the broach.
The same way should be done in the case of broaching for external profiles.
For optimal use of the broach, it should be remembered that with the same broach material and cross section, as the length of the broach increases, the "peak load" increases.
For this reason, it is necessary to reduce the feed rate and RPM.
The BR-G12A broaching head mounts G12A metric broaches and GP12A inch broaches.
Please install and activate TablePress plugin to work this widget.